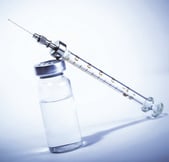 The world is entering a new era of the COVID-19 pandemic in which there is an increasing call for reliable antibody testing. Conventional neutralising antibody serological testing requires the use of a live virus conducted in a Biosafety Level 3 (BSL-3) laboratory, which presents challenges for COVID-
19 development programmes. An alternative approach is the use of a surrogate virus test (sVNT) that removes this obstacle and is the first neutralising antibody serology test to
receive emergency use authorisation (EUA) from the FDA. This innovative assay detects the presence of neutralising/ blocking antibodies against the SARS-CoV-2 virus, that block the interaction between the receptor-binding domain (RBD) of the viral spike glycoprotein and the ACE2 cell surface receptor.
Current testing methods, such as PCR, determine whether someone is actively infected by confirming the presence of
viral material or IgG/IgM antibodies that detect (binding and blocking) induced immune response from exposure to the
virus. Being an ELISA methodology, the in-house, fully validated surrogate virus neutralisation test (sVNT) is
amenable to high-throughput testing, at a lower analytical cost, and requires no extended validation timelines for
Eurofins' client base. It also removes the obstacle faced by many COVID-19 development programmes, by eliminating
the requirement for a Biosafety level 3 containment.
The advantage over historic antibody IgG/IgM tests is that this new gold standard assay tests for neutralising
antibodies (versus binding antibodies), by confirming neutralising function without the need for a secondary
antibody and is isotype and species independent. As the world strives to combat the COVID-19 pandemic,
Eurofins is committed to being part of global solution by expanding capacity to develop reagent kits and investments
in nonproprietary assays to offer for industry COVID-19 analytical Nab testing.


For More Information on the latest Eurofins News, please click here