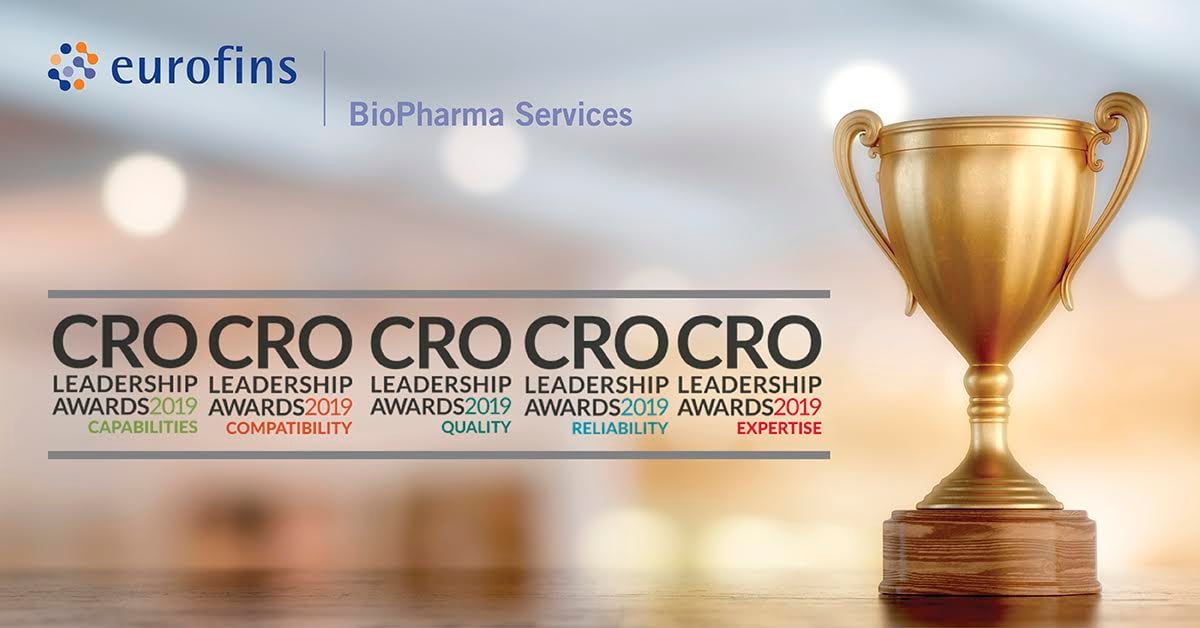 For the 2019 CRO Leadership Awards, Life Science Leader magazine once again teamed up with Industry Standard Research (ISR) to determine the award recipients. More than 60 contract research organizations were assessed on over 20 performance metrics in ISR's annual CRO Quality Benchmarking survey. Eurofins is recognized as a recipient of these awards, exceeding customer expectations in every category.
Eurofins Scientific was founded in 1987, with €3,781.1 million in annual revenues [2018], over 45,000 employees in 800 laboratories across 47 countries, a portfolio of over 200,000 analytical methods and over 400,000,000 tests performed annually, has proudly been a winner of the CRO Leadership Award and has been a recipient of this award for seven consecutive years. Specifically, Eurofins has been recognized for exceeding customer expectations in five categories:
Capabilities
Compatibility
Quality
Reliability
Expertise
Capabilities
Eurofins Scientific is a world leader in laboratory science, providing a unique range of analytical testing services to the pharmaceutical, food, environment, and consumer products industries, as well as to governments. The Group is committed to supporting its clients' objectives of ensuring that their products reach the best possible quality and safety levels in all markets in which they operate and support medical practitioners and patients with innovative diagnostic services. The Group intends to continue to develop and acquire the most comprehensive range of state-of-the-art analytical technologies as well as expand its geographical reach in order to support its clients' increasingly stringent quality and safety standards and the expanding demands of regulatory authorities and healthcare practitioners around the world.
Compatibility
Eurofins is committed to the highest ethical standards in conducting business and operating in a socially responsible manner. The thrust of the business is in helping all their clients ensure the safety of their products and services which in turn benefit consumers' access to even healthier food products, more innovative pharmaceutical products and a clean environment. A strong reputation for quality is therefore the core to the success and integrity in how Eurofins conducts business and maintain relationships with stakeholders is central to their corporate principles.
Quality
Eurofins is committed to providing the highest quality services, accurate results on time and, if requested, expert advice by highly-qualified staff. The reliability and accuracy of its data help customers make appropriate decisions on risks and meet their increasingly strongest quality and safety standards and the demands of regulatory authorities around the world.
Reliability
Eurofins employees have dedicated their professional lives to achieve the corporate mission of contributing to a safer and healthier world by providing their customers with innovative, high-quality laboratories, and advisory services. By engaging the scientific and operations team as early and thoroughly as possible in the development process, it has been demonstrated to increase the accuracy and quality of deliverables, proactively identify risk and best practices to ensure efficient and precise analytical results and ignite employee passion for delivery of medical advances.
Expertise
Few testing laboratories can match the level of expertise, technological leadership, attention to quality and customer service that have made Eurofins the global leader in many of the fields where it is active. Large investments in innovation, technology, IT and logistics and very large sample volumes ensure that customers enjoy high standards of quality at reasonable prices.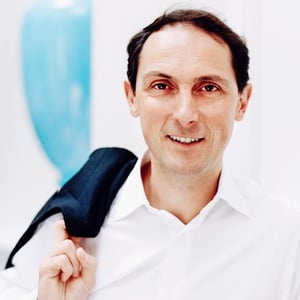 "At Eurofins, scientific excellence is at the heart of everything we do, delivered by a highly dedicated team for the benefit of our customers. Our partners trust us with their important research requirements, and to have the hard work of our team acknowledged through the CRO Leadership Awards in all five categories is a great honour for Eurofins."
-Dr. Gilles Martin
Founder & CEO
Individual Attribute Awards
In addition to the core award categories, Eurofins was also recognized for Individual Attribute Awards. These were developed as a result of common attributes that sponsor companies identified as being imperative when choosing a supplier. Eurofins won awards for Data Quality, Meeting Project Timelines, Operational Excellence, and Technology for Access to Data.
Eurofins was the only laboratory CRO that provides end-to-end Bio-Pharmaceutical development services (Research & Development: Discover, Pre-Clinical, Clinical (Ph 1,2,3,4); Drug and Substance Production: Primary Process Development, Drug Substance Production; Formulated Drug Production: Dosage Form Development, Dosage Form Production, Packaging, Logistics) to be recognized by the industry for four distinct Individual Attribute Awards. This is a proud testament of our 45,000 dedicated team members, as well as our valued partnerships with clients, allowing Eurofins to collaborate with their innovations in promoting the health and welfare of mankind.