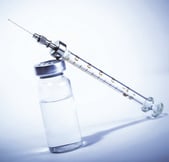 It was early 2020 when the head of Moderna's vaccine development team first met with Eurofins Viracor. Moderna scientists were working feverishly to move their COVID-19 vaccine candidate programme into the clinical phase, but their laboratory partner did not have all the validated assays ready to meet the needs of the trial. Eurofins Viracor was also gearing up to enter the fight against the COVID-19 pandemic with the launch of their new Coronavirus (COVID-19) SARS-CoV-2RT-PCR test.
A qPCR assay that the US Food and Drug Administration (FDA) would later show to have the highest sensitivity of any they evaluated. Not having worked with Eurofins Viracor previously, Moderna was understandably skeptical about partnering
with someone new for such a high-stakes project. So much so that they lined up backup providers in case Eurofins Viracor was unable to meet their clinical testing needs. But Eurofins Viracor didn't fail. After developing a sensitive and robust quantitative polymerase chain reaction (qPCR) assay for Moderna's study, that was bridged to their EUA assay, the Eurofins Viracor
laboratory team performed over 2,000 Phase II tests, and more than 85,000 tests (on NP swab and saliva samples) to support their >30,000 subject Phase III trial; matching Moderna's intensity and proving that their newly chosen molecular testing partner was equal to the task.
The two organisations worked closely and collaboratively, in a joint response to the COVID-19 pandemic, performing essential laboratory testing to assess the efficacy of the Moderna vaccine candidate against novel coronavirus infection. The ultimate result was the successful completion of Moderna's clinical trial for the mRNA-1273 COVID-19 vaccine candidate, and emergency use authorisation (EUA) by the US FDA on December 18, 2020, with subsequent approvals by regulatory agencies around the globe.
Without the accurate and reliable molecular testing Eurofins Viracor provided, the Moderna trial could not
have met the aggressive timeline needed for regulatory submission and approval for their COVID-19 vaccine. As the Moderna vaccine continues to be distributed around the world to thwart the spread of the deadly COVID-19 virus, the Eurofins Viracor team looks back with pride at the contribution to its success and are humbled by the impact it will have on the health and safety of millions of people across the world.
For More Information on the latest Eurofins News, please click here